Electric Monkey
About The Brand
Electric Monkey is the perfect blend of classic energy taste and light carbonation making it great on its own for a boost or as a mixer to get any party going! Electric Monkey is fueled by taurine and real sugar eliminating the harsh and sticky aftertaste left by other energy drinks; One sip and you'll taste the difference. Whether studying, tailgating, working out, a day out on the lake or at your favorite bar or club, grab a can for you and a friend so you too can get funky with the monkey. We don't have a Formula 1 Team nor do we have an astronaut jumping from a satellite, but what we do have is the flavor energy drinkers LOVE, using only quality ingredients and real sugar at a price that everyone can afford. Proudly MADE IN THE USA to create jobs and keep costs lower than the expensive European import, Electric Monkey will make you go wild from the first sip!
We Currently Stock: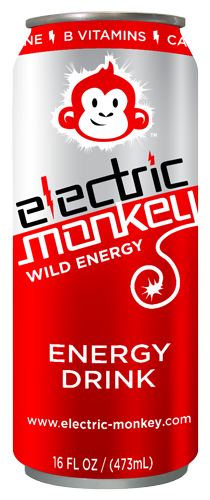 Electric Monkey Cranberry Grape
Beverage | ABV: 0
An amazing blend of 30% real juice and guarana that stimulates your taste buds as soon as you drink it. An effervescent blend of juice and honey for sweetness lets the tartness of Cranberry juice and sweetness of Grape juice surprise you with their freshness. With substantially MORE juice than juices in the grocery/convenience store fridge, you will be blown away. We win ALL taste tests vs all competitors that use anywhere from ZERO to 10% juice.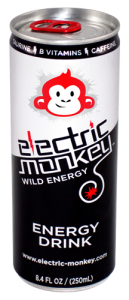 Electric Monkey Wild Energy
Beverage | ABV: 0
Wild Energy is our signature flavor that is familiar from the first taste! Classic Energy taste that is sweet and tart at the same time but has virtually no aftertaste. It is perfect on its own or it can be mixed with your favorite vodka or as a Jagerbomb!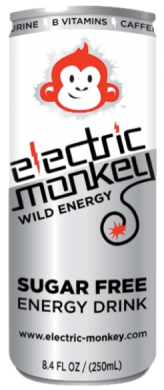 Electric Monkey Wild Energy Sugar Free
Beverage | ABV: 0
Sugar Free Electric Monkey Wild Energy