New Belgium-Gluten Free
About The Brand
We'll set the scene. 1988. Belgium. Boy on bike. (Ok, make that a young man of 32.) As our aspiring young homebrewer rides his mountain bike with "fat tires" through European villages famous for beer, New Belgium Brewing Company was but a glimmer in his eye. Or basement. For Jeff Lebesch would return to Fort Collins with an imagination full of recipes and a handful of ingredients ready to embark on a whole new journey. And then there was beer. Jeff's first two basement-brewed creations? A brown dubbel with earthy undertones named Abbey and a remarkably well-balanced amber he named Fat Tire. To say the rest was history would be to overlook his wife's involvement. Kim Jordan was New Belgium's first bottler, sales rep, distributor, marketer, and financial planner, as well as the company's longtime CEO. In 2015, Jordan passed the torch to New Belgium's current CEO Christine Perich.
We Currently Stock: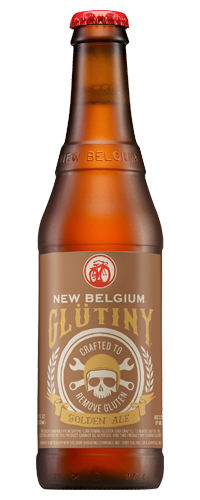 New Belgium Glutiny Golden Ale
Golden Ale | ABV: 5.2
Hoist your pints to the mutiny against gluten, and toast to Glutiny Golden Ale, our new uncompromised gluten-reduced beer designed for the discerning craft drinker. For this new year-round release, we dosed the beer with colorful Nugget, Goldings and Cascade hops, and then turned around and dry-hopped it again with Cascade, lending bright grapefruit and subtle herbal notes to the wash of bready-sweet malts; additions of oats adds a layer of smoothness to the mouthfeel. Finally, we used a special enzyme during the brewing process, which breaks down the gluten. The result is super sessionable, flavorful golden ale that starts sweet and finishes crisp. Ready to join the uprising? Taste the Glutiny.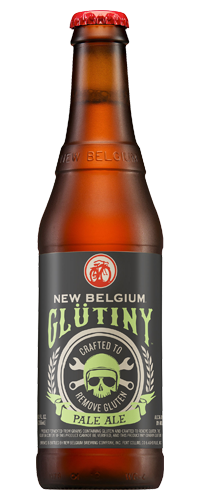 New Belgium Glutiny Pale Ale
Pale Ale | ABV: 6
New Belgium employee-owners work in shifts to brew to life world-class beers. Those efforts are rewarded daily with a shared end-of-shift beer. We're passing that welcomed occasion onto beer drinkers in this Shift Pale Lager. Think American pale ale meets American lager. It's easy to drink, crisp and congratulatory. So, clock out and crack open a Nelson Sauvin-hopped Shift Pale Lager to reward your work. Or play. Or, if you're like us, combine the two and surround yourself with drinking buddies.